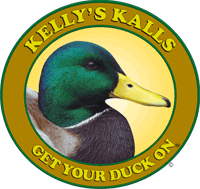 The Duck Calls I do:
All of my Duck Calls are turned by hand one at a time. I like to use domestic woods when ever possible how ever I have a large supply of Exotic woods available to you. Each and every call is sealed inside and out to help prevent moisture from causing your call problems. I make three kinds of Duck Calls, Arkansas , Louisiana and Reelfoot style Duck calls, I also make Pintail Whistles and Wood Duck Calls.  There are several styles to choose from in the pics below as well as my Flicker account page, http://www.flickr.com/photos/19420916@N04/
You can also check out my collection of Childrens Duck Calls.
I can send you extra pictures of my Duck Calls if what you see here is not what your looking for, I have hundreds of call photos for you to enjoy.
I can also custom turn your wood to make your duck or goose call. I can not however be liable if the wood is of such a type that does not lend itself to being turned on a lathe. Very old dry and brittle wood needs to be stabilized before it can be used, I can not do this but must ship it off to be done, This gets pretty expensive so I can suggest some companies for you to send it to prior to my getting it.