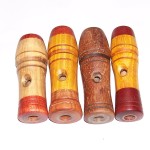 These are the finest sounding wood duck call available today, These are the same calls that you see being used in the Team Real Duck contests by world class duck callers like Kent Cullum and John Chassion just to mention a few. These use a reed system to get those perfect squeals and tweaks that Woodies make, Dual exhaust holes allow you to sound like several woodies at one time. There are two sizes to choose from, Standard and Magnum, They sound exactly the same just one is a tad bigger for folks that use heavy gloves or hunt in colder weather. Anyone says that you cant call woodies into set in the decoys has NEVER USED one of my Woodie calls. Ask the guys at Ureaduck Decoys, You can call and set Woodies with the right decoys and calls!! I'm not saying they are the BEST Woodie calls on the market, My Customers say it, Kel
Standard: Standard is about 3.5 inches long.
Magnum: Magnum is a bit longer for the folks with bigger hands.
Available Woods: Osage Orange, Walnut, Curly Maple, Katalox, Cocobolo, Bocote, Bloodwood, Persimmon, Pecan, Spalted Pecan, Birdseye maple, Zebra Wood, Bubinga, Cherry and Goncalo Alves. Plus many more not listed, If you want it we can get it!!
Wood Upgrade:
Exotic Woods are available for an extra $10.00 & Stabilized Blanks are available for an extra 25.00 in stock items only
If you have any questions before ordering or would like to make a special order please contact us by phone (316) 269-4142 or email us at kellyskalls@sbcglobal.net